How is the nursery planning going? Have you already picked out a color scheme for your nursery? Or are you still waiting for that ultra sonogram to tell you whether to go, blue or pink? Or are you simply re-modelling the old nursery for the newest member of the family?
Either way, new parents or old pro's, one thing that we all seem to be newbie's at this is baby crib shopping; finding the best, high quality and safest baby crib, cot and crib mattress for your baby and that your money can buy.
Are You Shopping For The Right Crib?
When it comes to buying a crib for your baby, there is an endless products out there. Buying a crib and a crib mattress is often daunting, time-consuming and overwhelming for many parents. There is a list of Do's and Don't when it comes to sealing the deal on the right crib for your baby. Read our complete Baby Crib Buying Guide for more information.
We Have Done Everything For You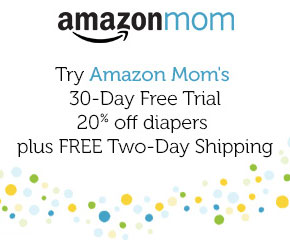 So take a deep breath, have a sip of water and relax, you don't have to do a thing, literally, we have done the all the research for you to rank the best baby cribs, cots and cot beds (and even a mini-crib as well). We have based our list of top baby cribs and cots, not only on our personal experiences (through having 10 children between 3 of us), but we have looked through a ton of buyer verified reviews of each baby crib, cot, cot bed, mini-bed and convertible crib available.
And the following is what we have come up with; what we, as mother's, Heather, Linda and Emma, think are the highest quality cribs and affordable cribs, but mostly importantly we rank these because we believe they are the best safe cribs and cots to buy for your baby.
Consider this a pay-it-forward act of kindness, next time you get to be the pro, and help someone else out.
#1 Best Seller:

DaVinci Kalani 4-in-1 Convertible Crib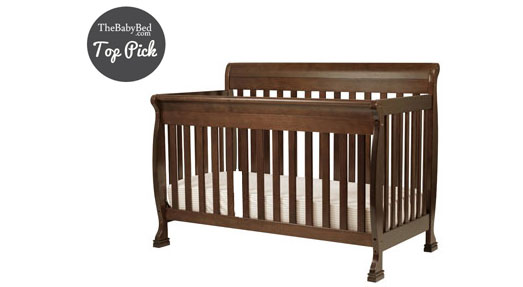 Click Here for Shipping to the UK or Europe
The DaVinci Kalani Convertible Crib has topped out list as the best baby crib any parent can buy. Each of us here at thebabybed, Heather, Linda and Emma all concur that the Davinci Kalani crib delivers every aspect of safety, design and affordability in a baby crib.
The reason why we are all totally in love with this crib is because the DaVinci Kalani baby crib transforms into a toddler bed then into a full size bed. We know right? It's amazing, once your little one has outgrown their crib, you can  easily transform it into a toddler bed and then once again, easily transform it into a full size bed by using the headboard and footboard. You can read more about the features in our DaVinci Kalini Review.

As one of the best baby crib brands, DaVinci, is also easily one of the most popular crib brands out there in crib-shopping department. But of all the DaVinci baby cribs (and they do have a few!), the Kalani 4 in 1 baby crib is easily the best and most popular crib for babies worldwide. First and foremost the DaVinci Kalani Crib is JPMA certified so it's one of the safest cribs to buy as it has a great non-toxic finish. The Davinci Kalini cot bed is one of those things you feel good about in your nursery, it becomes that feature piece of furniture in the baby's nursery.
An added benefit is that, in addition to being safe, it looks like a high-end $400-600 baby crib, but your outlaying under $300 (see below for latest price).
The Davinci Kalani cot bed comes in not the usual three but in 4 adjustable levels, meaning shorter mom's like Emma are less likely to suffer. An amazing buy and what one of us, Emma currently has in her nursery so definitely recommended!
Read our full mom's review on the Davinci Kalani Baby Crib here to find out more about the specifications, what's included and why we absolutely love the Kalani and ranked it #1 for the best baby cribs, cots and cot beds. See more DaVinci Convertible Crib Collection
Buy Now: DaVinci Kalani Crib
Click Here for Shipping to the UK or Europe
2. Good Value:

Stork Craft Tuscany 4-in-1 Stages Crib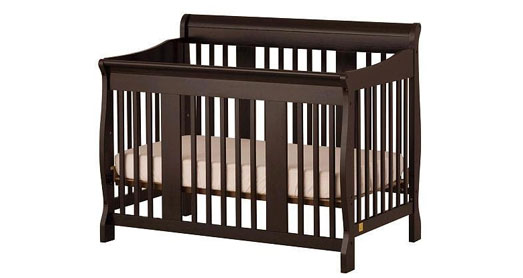 Click Here for Shipping to the UK or Europe
One of the best cribs out on the market right now, and possibly the best in its price range is the Stork Craft Tuscany Crib. This 4 in 1 crib is literally gorgeous! Not only are all four sides stationary for an added bit of stability but it also meets both US and Canadian standards in the safety department. The Crib is versatile and can eventually become a great toddler bed, a day bed or even a full size bed. No bulging hardware, no splintering problems, just a beautiful finish on solid wood that has you thinking of Christmas all year long! Buy Now
3. Popular:

Athena Nadia 3 in 1 Crib with Toddler Rail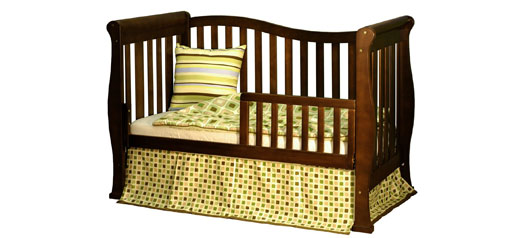 Click Here for Shipping to the UK or Europe
Pine. Real Pine. That is what I absolutely adore about the Athena, it's a beautiful little piece that goes in great with old-school furniture. A particular favourite for mom's expecting baby girls, since the toddler bed has a beautiful feminine element to it, for it is Athena means the Greek goddess of wisdom an warfare it just seems to have that beautiful flare to it. It is JPMA certified and also meets US federal safety regulations, the wood is initially a bit smelly, but that is mainly because of the stained wood. Not a bad pick Buy Now
4. DaVinci Jenny Lind 3-in-1 Convertible Crib

The DaVinci Jenny Lind can be a very tempting crib, and at around the $200 mark, most of us parents are inclined to think that with its bright fresh colours that this particular JPMA certified crib would be great for the nursery. Don't make that mistake! Before engaging in an impulse buy think, yes the crib may be a convertible and have non-toxic finish, but it lacks the most important of crib functionality- safety.
For one thing DaVinci's Jenny Lind is set on wheels which should be enough to trigger a big no-no from most parents, but if that fails to ring your warning bells know that the Jenny Lind is also known for having the railing break and causing the bottom to fall out from under it at times – not safe, no matter how much of a steal, invest in a better crib and have a safer nursery. Personally, we would have this one down the list a bit but this may create some uneasiness. It is a popular option with new parents due to its price tag and simplicity but as experiences parents, just add a little more the crib budget and get something more sturdy in our eyes. Buy Now
5. Delta Childrens Products Canton 4 in 1 Convertible Crib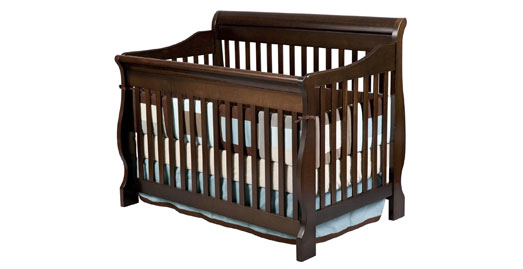 Buy Now: Delta Children's Canton Crib
Another great sturdy crib however is the Delta, while it does only come in three colors, the espresso and cherry are particularly charming, and furthermore it is a very stable sleigh shaped crib, unlikely to be pushed around like many of the smaller cribs. Unfortunately most customer reviews show that while maintaining high Product Service credibility, by meeting both CPSC and ATSM Standards, the crib is in fact said to 'fall apart' and splinter very easily, which is a particular concern for hyper toddlers. Doesn't seem like a lasting investment when put in that light afterall. Buy Now
6. Babyletto Modo 3-in-1 Convertible Crib with Toddler Rail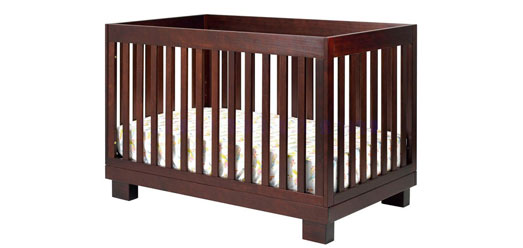 Order the Babyletto Modo Crib Now
Just from the onset, don't use just love the name – Babylett-o! One of my personal favorite cribs, in sense of style, is the Babyletto, the crib is not as fancy but will be a future bed, it is a product will last forever and ever product, but it's great for a smaller nursery. The only thing that holds me back from buying it though is that, while the bed is non-toxic and has 3 modes, as a toddler bed, day bed and a crib, the crib is a little less sturdy than some of the other options on the list, which translates as a safety hazard in my book. All in all a great showpiece, but since I get the vibe it wouldn't last more than a year or two at max, at around $300 seems like a very steep price to pay when there is other good crib's aswell. Buy Now
7. Dream On Me Violet 7 in 1 Convertible Life Style Crib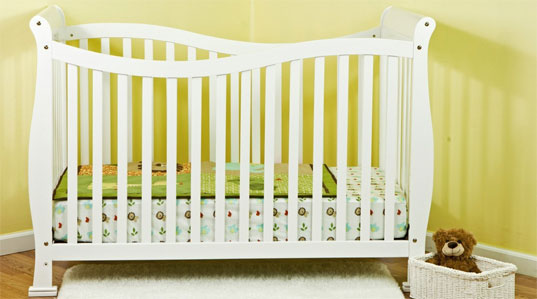 Made of solid wood with a Phthalate and lead free non-toxic finish, The Dream on me is one of the most versatile CPSC compliant cribs on the list, with not the standard three or four but seven adjustable positions, starting with the crib, toddler bed, day bed, twin bed (2 setup options) or full bed (2 setup options), the crib comes in five different colours (making our jobs as nursery decorators that much easier) with a toddler bed rail included with the crib. The crib however seems to have temporary stock issues and as such fails to be one of the more reliable crib options. Buy Now
8. Child Craft Camden 4-in-1 Convertible Crib, Jamocha

Buy Now Childcraft Camden Crib
Click Here for Shipping to the UK or Europe
Unlike most of our other favorite cribs and cots, this particular crib, the Child Craft Camden is made of hardwood instead of actual wood the finish however does look very sleek, and is great for someone looking for a solid back crib under $400. It is also a four in one convertible meaning, it has the standard options of crib, toddler bed, day bed and full size bed. One major drawback however is that the crib is not certified by CPSC, and the quality based complaints it's faced make this affordable crib, a certain risk. The Childcraft Camden crib is also only available in the above pictured color. Buy Now
9. DaVinci Emily Mini Crib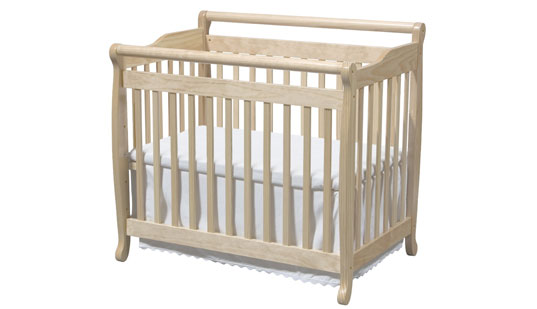 Buy Now DaVinci Emily Mini Crib
Click Here for Shipping to the UK or Europe
Allow me to introduce you to Number 9 on our list, which is the DaVinci Emily Mini Crib, made from the Kiwi's in New Zealand using New Zealand high quality Pine and CARB II compliant MDF at the cribs bottom, this is THE cheapest crib on the list. Like most other DaVinci products the Mini Crib comes with a non toxic finish and small enough to fit two in one nursery, hence the word 'mini crib' (for those of you expecting twins!), however for all its benefits, the Mini Crib is quickly outgrown and given its lack of long term use lands itself at the bottom of our list. Buy Now
Final Thoughts
Just a word to mention, not all baby cribs and cots will appeal to every parent, between the three of us moms here at thebabybed, we have been through a fair few cribs between 10 children and we all have different preferences, that's why we have pulled together these cribs and cots that are the safest cribs and cots to buy on the market.
We have looked into the best selling crib bed, the most well known and best baby crib brands, the most popular baby cotbeds, the most top rated baby cots, we have read through endless cot bed reviews, baby crib reviews and cot bed reviews to find the best crib reviews we could to deliver our favorite crib for your baby.
For more information about:
CPSC Regulations: http://www.cpsc.gov/onsafety/2011/06/the-new-crib-standard-questions-and-answers/
SIDS: https://sids.org/