Best Selling Glider Chair (2014, 2015, 2016 and 2017!)
Reliable Baby Brand – Stork Craft
Top Rated Crib – over 2601 3308 verified customer and buyer reviews (updated 2017)
Meets all safety requirements including JPMA and more!
To Purchase & View Product Specifications:
Why You Need a Nursery Chair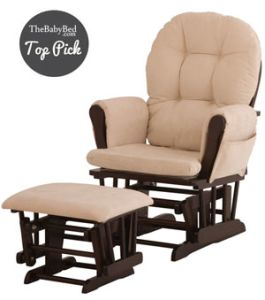 Picking out nursery furniture is an exciting task, but it can sometimes become an overwhelming one when you look at all the price tags.
Don't be discouraged, there is no reason to cut out something that you really want out of the plans. Especially a piece of nursery furniture as important as a gliding chair and ottoman, a.k.a nursing chair or breast feeding chair (we have written about the Top 5 Best Glider Chairs here, which this Stork Craft is #1)
As a new mother, whether it be for the first time or the fifth time, what is for sure is that you will be spending a lot of time rocking your baby to sleep and feeding your baby. So if you spend hours upon hours doing this, shouldn't you invest your money in something comfortable like a nursery chair?
A rocking chair with an ottoman (or also known as a nursery glider and ottoman) is an even more essential piece of furniture for breastfeeding mothers (or for any parent for that matter).
Breastfeeding is a challenge of its own and many mothers just need more hands! Since we can't really sprout additional limbs after giving birth, having a comfortable spot to rest your arms as you try to find the right position for you and your nursing baby.
Heather's Review of the #1 Best Selling Stork Craft Hoop Glider

The Hoop Glider Set by Stork Craft is the perfect choice in nursery chairs not only because of very very affordable price tag (check price here), but because it's comfortable, comes in different colors (see NEW colors below!) and it's pretty easy to assemble yourself (well, the man of the house, really).
This glider chair comes with an ottoman and is much less expensive than the ones you will find in the baby boutiques. Priced between $130-$160 you really can't beat it in a comfortable feeding chair – let alone just an ordinary chair.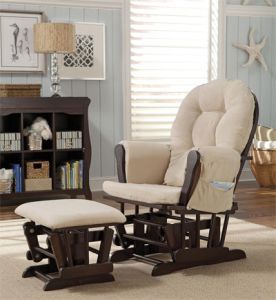 When you order online, you also won't be paying shipping so you save even more money there as even when you buy one from a store, if you don't have a truck to bring it home yourself, you have to pay for the delivery of the chair. When we were looking around at nursery furniture, even if we only had one thing delivered, it was about $100 at most places. That's almost the price of the chair! No thank you!
Stork Craft knew what they were doing when they made this cushy chair. It has cushions not only on the seat and back of the chair and on the ottoman, but the arms of the chair are also padded. This feature adds extra comfort and convenience, especially for nursing parents.
There are nursing pillows to offer height and comfort to the baby, but what about your arms? The parent is the one who is supporting all the weight and getting in to strange positions to feed their sweet angel. The padded arms are a nice cushion for a parent's tired arms, allowing you to support your baby as you nurse and rock them to sleep, over and over again.
The glider nursery chair also has a generous amount of space in it, for optimal comfort. Nobody likes to be squished and uncomfortable, especially when they will be sitting there quite often and if you have a newborn, you can expect to spend a lot of time feeding and rocking that sweet little bundle. Breastfeeding my daughter was so much more comfortable when I was able to rest my arms on something soft. Not to mention spending so much time sitting after giving birth…. We won't mention THAT discomfort too much; we'll just say the soft seat was worth it.
New Range Available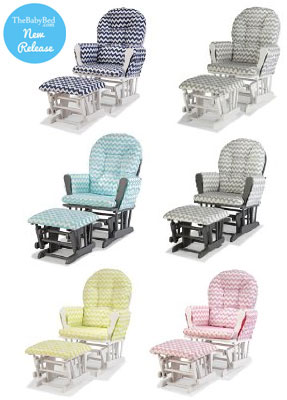 Purchasing the Stork Craft glider set and saving money does not mean you have to compromise style – to view the new range available, click here.
There is a variety of colors available and many of them are neutral and will fit in with any nursery décor you have in mind.
The color of the wood varies from dark to red to light colors and the padding for the cushions are basically neutral, except there is one that can be found in blue.
This nursing rocking chair doesn't come per-assembled but it isn't very hard to put together. Some people have mentioned that it was simple enough to assemble during pregnancy, though it's always fun to watch hubby assemble the furniture.
The Stork Craft ottoman and chair set makes it possible to have everything you want in a rocking/nursing chair without breaking the bank. No need to compromise style and comfort for a price that makes you comfortable.
Buy the Stork Craft Hoop Glider Now & Get Free Shipping!