Best Selling Baby Crib (2014, 2015, 2016 and 2017!)
Best Crib Brand – DaVinci
Top Rated Crib – over 1133 1376 verified customer and buyer reviews (updated 2017)
Known as the 'Kalani Convertible Crib' – No outgrowing! (i.e. no need to spend money in the future on another bed) – converts to toddler bed, daybed, and full-size bed, read on to find out more!

Meets all safety requirements including JPMA, CPSC and

ASTM safety standards

Strong side slates for security and support
Made from 100% natural New Zealand pine wood
DaVinci Kalani 4-in-1 Convertible Crib Price:
Latest & Cheapest Price: Buy Now
Latest & Cheapest Price in the UK or Europe
The DaVinci Kalani Crib – The One Crib to Rule Them All
If you are asking if I seriously just used a Lord of the Rings reference for a baby crib, the answer is yes (closet nerd mom speaking), and trust me I do not use the reference lightly. After three years of amazing service, and another 2 to hopefully look forward to, I not only am fully capable of running around in a towel referring to it as 'my precious' but I honestly believe it stands as just as indestructible. If you want I could reference Game of Thrones and call it the Mountain, since he seems pretty indestructible at the moment too.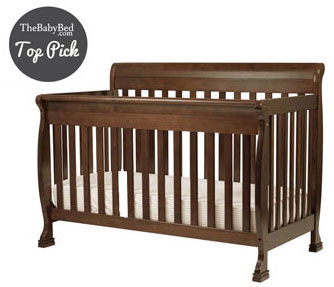 Out of the 10 best cribs that we have listed on the site, if you want to buy the best crib or cot on the market right now, the DaVinci Kalani is the one for you. I probably wouldn't look through any other reviews or anything, the DaVinci Kalani crib ticks all the boxes, safety, style, support and quality. The DaVinci Kalani has added benefits of being one of the highest rated by crib customer and buyer reviews (4.5 out of 5 stars), best selling crib and one of the safest crib bed for babies. For the past 4 years (2014, 2015, 2016 and 2017), it is also one of the best priced cribs on the market at around the $200 mark (check price here)
Laughs aside, let's talk shop. Crib shopping is a pretty crucial part of the 'baby-experience'. Most parents like to get the crib or cot ordered really early on in the pregnancy, so that they can build it while junior is yet to begin protruding from mommy's tummy (which is what we did), and some people leave it to a bit later, but the crib per se is inevitable, you gotta buy one.
Heather's Review of the Top Rated DaVinci Kalani Crib
When the crib hunt started, I was actually almost done with my nursery and all the nursery furniture, all I had left to buy were the crib, the crib mattress and the dresser oh and all the baby bedding to match in nicely. So I knew basically, in my mind exactly how I wanted my crib to look. I was looking for a nice cherry toned wood crib, that would complement my peaches and pink themed room.
I also knew, that I couldn't really afford to spend $400 just on the crib, my budget was an issue for one and lastly I wanted something that was easily adjustable in the height department without actually having to buy a convertible crib (this particular crib had me changing my mind on the convertible part). Lastly I wanted the crib to be baby-safe, have a non-toxic finish, so that even if junior did end up gnawing on it, it'd be okay.
Sturdy, Safe and Comfortable
First off I did not want a rock-a-by-baby cot, after watching my sister with her twins and given that I knew I would want to be having another child soon after, I wanted a sold and sturdy cot that would withstand two toddlers fighting over it and crawling up it without moving and risking my babies ending up under a collapsed cot. I also wanted to avoid moving parts, since they practically attract accidents and the Kalani crib by DaVinci is a static crib and as such without any moving parts. Hence, why it's obvious it ranked no.1 for the safest and best baby crib.
Another thing that I wanted was to make sure the slits between the bars were not too big, I'd read up on how accidents can happen especially with cots that aren't structured well, which was way I required any cot I was to buy to conform to JPMA standards and be certified by them. The JPMA are a certification program specifically for the juvenile products industry, which meant all my worries about safety and stability were met with just one label.
Non-Toxic Finish
The next most pressing issue was the crib paint, now, the DaVinci Kalani crib is a beautiful New-Zealand wood carved cot and finished with, paint that not only meets JPMA certification standards but exceeds it! Three years, have come and gone, with the teething and terrible twos and not one did any chewing on part of my very hyper active baby leave paint chips, dents after very rigorous biting sessions but nothing! The DaVinci Kalani crib is easily one of the safest an non-toxic cribs on the market, made from natural and organic wood.
Click Here for Shipping to the UK or Europe
Easy to Assemble and Use
The DaVinci Kalani 4-in-1 Convertible Crib is probably the easiest piece of furniture I have assembled in my entire life – that ladies is obviously not me talking, I sat around and bossed my loving husband around, but since he did set the crib up I decided to give him his fifteen seconds of fame.
While I may not have assembled it myself, I can tell you this, it was quick and painless; I remember my husband setting up out bookshelves and trust me this was a minor miracle. He had the cot up and ready in I think about an hour and a half, at which point we realized it wouldn't fit through the door, and so ended up taking it apart (partially) and setting it up in the nursery again.
Convertible Crib
When you hear convertible crib, you hear, saving money! The DaVinci Kalani crib is the best convertible crib and safest convertible crib on the market. It converts into a toddler bed, day bed and full size bed.
Seriously, can you really find a cheaper crib for your baby when this crib is so easily convertible?
Perks
The 'One Crib to Rule them All', has the added benefit of coming in a range of colors (VIEW ALL COLORS HERE), that are a little out of the ordinary, allowing you to spruce up your nursery instead of sticking to conventional tones. I found that these different color cribs were available when you bought your crib online compared to in stores (with the added benefit of also being cheaper when you bought the baby crib online also).
I personally went with the Cherry crib, but they also had Ebony (which is a black crib), Honey Oak, Espresso and the classic White crib.
Another great perk is that this particular cot comes with 4 levels instead of the usual 3, which is great for me (I'm about a 5'1") since on all the other cots we tried, the levels were either too high or too low.
At around $200, when you buy your crib online, this cot is a dream come true. The way I see it I bought a crib, a toddler bed, a day bed and a full size bed all for the price of this amazing crib.
Final Comments
I guess it's a bit obvious I am still gushing over my three year old crib turned cot, which my child has also seemed to grow up loving. All in all I thought it was a beautiful, and elegant piece of furniture that DaVinci managed to market for those of us with high-end crib taste but not quite the deep pockets. Not only that, but the Kalani 4 in 1 convertible crib is the top rated crib and one of the best selling cribs on the market. So, from our DaVinci Kalani crib review, Mom's and Dad's, The DaVinci Kalani 4-in-1 Convertible Crib with Toddler Rail is a must buy for baby cribs, trust me you won't know how much you wanted it until you get it! Don't forget to take advantage of any special offers on the Davinci Kalani Crib below (and check whether you qualify for free shipping & free returns!)
Get Latest Price: DaVinci Kalani Crib Now
Click Here for Shipping to the UK or Europe
Get the full DaVinci Kalani Crib Set

Related article: Top 10 Baby Cribs